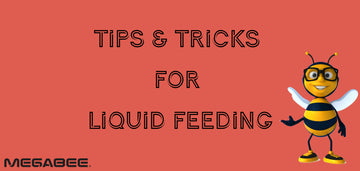 Liquid feeding is what we get the most questions about. Once mastered it can take loads of pressure off of your feeding regimen, but mastering it can be difficult. Luckily, we have a few insider tips to make the learning process easier.
Heavy syrup means HEAVY syrup – MegaBee is ground fine…very fine. This is what allows it to remain perfectly suspended in 2:1 heavy syrup. However, if you're making your heavy syrup at home it is important to make sure that your mix is in fact heavy enough. 2:1 means a true 2-parts sugar to 1-part water mix. If you notice the powder settling to the bottom on a consistent basis, then try thickening the blend by adding more sugar or making sure that it is dissolving properly and not just settling out as well.
Give it a good mix – Stirring does not cut it. Here are some tricks to get it mixed thoroughly depending on your scale of beekeeping:
Backyard Beekeeper – Make it in the blender! If you only have a couple of hives to feed try putting some sugar syrup and powder in your blender in order to get the powder to mix into a concentrate or paste. Then mix that paste into your remaining sugar syrup and you will have no issues with settling.
Sideline Beekeeper – Try mixing your MegaBee liquid in a 5-gallon bucket with a paint mixer attachment and a power drill.
Commercial Beekeeper – If you work with syrup totes (IBC) then mix your MegaBee in and let it recirculate overnight.
Know your feeder – MegaBee is less viscous than standard 2:1 syrup, so if you are using a top feeder then be willing to modify the holes slightly to accommodate this change. Inboard feeders (frame feeders) work great. Just know that in colder temperatures the bees have a hard time drawing syrup upwards. If you are noticing less than expected consumption and the weather is cold outside than you might want to switch to top feeders or patties.
Hope this helps! We know liquid mixing can be different at first so be sure to contact us with any questions.